Southwestern Chopped Salad with Chipotle Cilantro Lime Dressing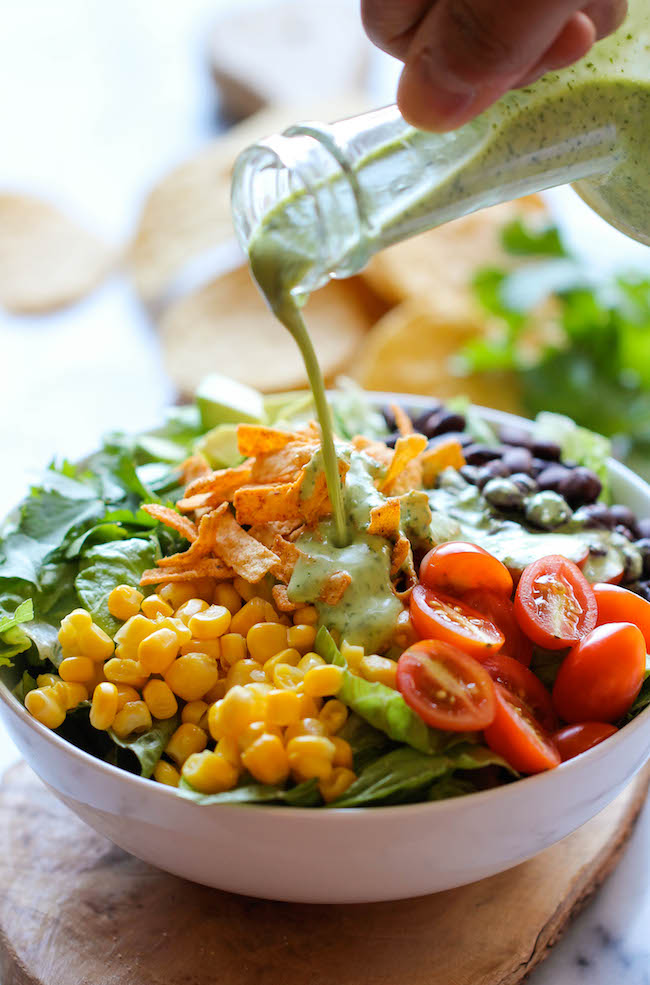 INGREDIENTS
5 cups chopped romaine lettuce
1/2 cup cherry tomatoes, halved
1/2 cup canned corn kernels, drained
1/2 cup canned black beans, drained and rinsed
1 avocado, halved, seeded, peeled and diced
1/4 cup tortilla strips, for garnish
FOR THE CILANTRO CHIPOTLE LIME DRESSING
1 cup loosely packed cilantro, stems removed
1/2 cup plain Greek yogurt
2 cloves garlic
Pinch of salt
1/2 cup Vines & Branches Persian Lime Extra Virgin Olive Oil
2 tablespoons Vines & Branches Jalapeno White Balsamic
To make the dressing, combine cilantro, Greek yogurt, garlic and salt in the bowl of a food processor. With the motor running, add olive oil and vinegar in a slow stream until emulsified; set aside.
To assemble the salad, place romaine lettuce in a large bowl; top with tomatoes, corn, and black bean. Pour the dressing on top of the salad and gently toss to combine. Stir in avocado.
Serve immediately, garnished with tortillas trips, if desired.
Adapted from Damn Delicious